Shivangi Khedkar on her new look in Mehndi Hai Rachne Wali: It is a task for me to wear heavy sarees and accessories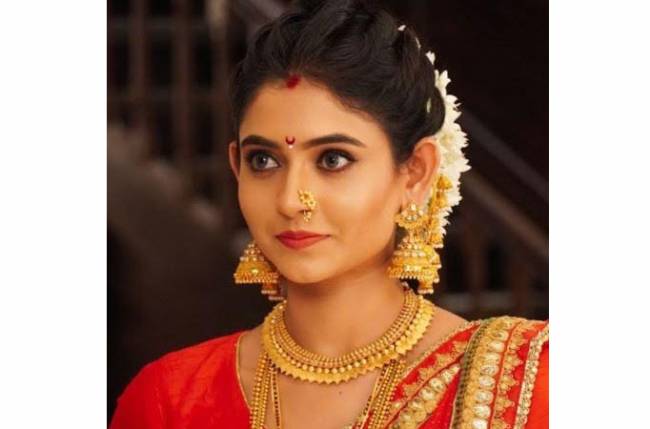 Shivangi Khedkar is currently seen in Star Plus' show Mehndi Hai Rachne Wali.
The actress is portraying the role of Pallavi Deshmukh on the show.
We have seen how Shivangi's character has changed from the beginning till now.
From being a widow to being an independent and strong woman who always stood up for herself, Pallavi is now shown married. She is getting all the love and care from her husband which she never got in her first marriage as her husband died the very next day.
Well, the viewers are loving how Pallavi and Raghav's relationship dynamics are changing with time.
A lot of cute romantic scenes are shown between them which are leaving the viewers hooked to the screen.
We all know that Shivangi's character Pallavi has changed a lot with time.
The actress was seen in an extremely simple look on the show in the beginning.
Shivangi was seen in light coloured printed sarees with minimal accessories. While fans still loved Shivangi's simple look, the viewers are now falling in love with her new look as well.
Pallavi's character is now shown married and she is seen in beautiful heavy bright coloured sarees with heavy jewellery and makeup.
We got in touch with Shivangi who opened up about her new look on the show.
She said, "Pallavi and I are very similar with simple living which definitely involves simple clothes. But now the look has changed with heavy sarees and jewellery which is a task for me to handle during. But what to do it's show business. Also, I have been receiving a lot of compliments for the new look and who doesn't love compliments. But I still believe in simplicity. Pallavi was beautiful even then and is beautiful even now. "
Well said, Shivangi!
The series is based on Star Maa's Telugu series Gorintaku. Mehndi Hai Rachne Wali is produced by SOL Productions and Sandiip Films.
The show also stars Sai Ketan Rao in the lead role.
Stay tuned for all the latest updates.