Top 5 moments to look out for in the upcoming weekend episode of Sony' Indian Idol Season 12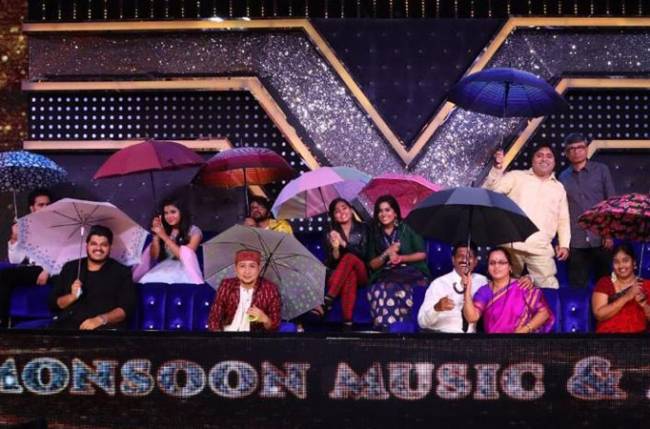 Sony Entertainment Television's Indian Idol Season 12 has been at the forefront to offer viewers a weekend filled with entertainment, promise and never-ending dhamaal. Welcoming the monsoons on Saturday with a 'Monsoon Special' episode and a full-on entertainment tadka on Sunday with 'Shatrughan & Poonam Sinha' special episode, viewers are in for a treat with two back-to-back fun episodes on the platform. While the entire episode is filled with a rollercoaster of emotions, we have listed down 5 things that will be the highlights to watch out for!
Danish Mohd impresses Poonam Sinha
A talent par excellence, contestant Danish Mohd will be seen performing brilliantly on stage. While he wins mighty praises for his performance from Shatrughan Ji and Poonam Sinha it is his acting skills that takes Poonam Sinha by surprise where she exclaims, "Cha gaye tussi, pappe!'
Shatrughan Sinha reveals the reason behind rejecting the film 'Sholay'
Welcoming the ever-green couple Shatrughan Sinha & Poonam Sinha this week on Indian Idol 12, legendary artists will be seen giving us major throwbacks from their yester-year days. One such moment will be when Shatrughan Sinha will be seen revealing why he rejected the blockbuster film 'Sholay'. Watch him unravel this secret only on Sony Entertainment Television's 'Indian Idol 12'
What do Shatrughan Sinha and Sonu Kakkar have in common?
Did you ever think that Shatrughan Sinha & Sonu Kakkar may have something in common? Unboxing an episode full of secrets, trivia & fun facts, Indian Idol 12's upcoming episode will reveal what's that common thing between the mighty star & the singer. It's a common saying that goes by 'Naam mein kya rakha hai', let's see what Shatrughan Sinha has to say about his nickname on the show
Shatrughan Sinha reveals interesting facts
Who wouldn't to gasp all the fun tales & facts that were experienced by these versatile artists. Indian Idol 12 takes us a notch closer in their 'Shatrughan & Poonam Sinha' special episode where they are seen opening the pandora's box which is full of golden memories. While their presence on the show, they will be seen recollecting how Shatrughan Sinha dozed off during a narration reading given by the master director Subash Ghai for the film 'Kalicharan'
It's monsoon food fest on Indian Idol 12
Bringing in the monsoon fever, Indian Idol 12 will scratch your memories of this lovely weather. While enjoying self-made pakoras by Arunita Kanjilal to crunching on some 'garma garam bhutta' to enjoying amazing monsoon special songs, the upcoming episode will make you want it all.
Stay tuned and keep watching Indian Idol Season 12, every Saturday and Sunday at 9:30 pm only on Sony Entertainment Television