Pooja Kawa talks about the transformation of her character in Zee TV's Radha Mohan, shares her experience of working with Shabir Ahluwalia, "He is the most humble person"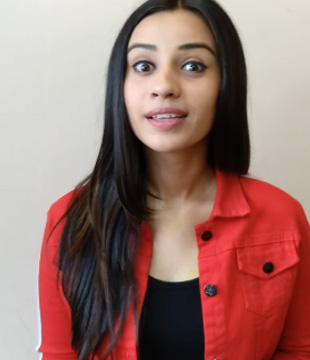 MUMBAI: Actress Pooja Kawa is currently seen in Zee TV's popular drama series Pyaar Ka Pehla Naam: Radha Mohan.
The show stars Shabir Ahluwalia and Neeharika Roy in the lead roles and has been working wonders ever since its beginning.
Pooja is seen playing Shabir aka Mohan's half sister Ketki in the show. She is paired opposite actor Sumeet Arora in the drama series.
Well, Pooja's character Ketki was initially negative but as the story progressed, her character changed to positive.
The viewers are in love with Pooja's transformation in the show.
How has your character transformed from the beginning till now?
When I was offered this role, I was told that it would be negative. But as time passed by, things transformed. The character did not like Radha initially and never wanted her to get married to Mohan. She was also very negative towards Damini. But soon, she realised that Radha is the perfect girl for Mohan. Ketki also knows about Damini's dirty games. I never thought that my character would turn positive but with time, that's what happened.
When you came to know that you are going to play Shabir's sister, what was your reaction and how has been your experience so far?
Honestly, I did not know who was playing Mohan's character in the show. This was after I was casted for Ketki. There were news about Ankit Mohan playing this role. Later, I came to know that the lead was changed and Shabir is on board. I was totally surprised. I was very nervous on the first day of shoot as Shabir is quite a senior actor. I thought that he might be very strict. I was blown away by his persona. He made everyone very comfortable on-set on the very first day itself. I don't feel like I'm going for work. We chit chat a lot. It is fun shooting with him. He is extremely down-to-earth and is a very humble person. Shabir has always helped us with the scenes. He is way too chill and a superb human being.
You played a grey shade in Star Bharat's show Tera Mera Saath Rahe and then you were offered Ketki's role which is also negative. Do you feel people are stereotyping you for such roles?
When I went for my audition, my director was present there. I was told that it will be a full-fledged negative character. I always thought of portraying a variety of roles as it would be fun. I also had the same thought as I played something similar in my previous show. However, I am trying my best to do justice to this character. I don't think about it too much.
Well said, Pooja!