Kyun Rishton Mein Katti Batti fame Neha Marda says, ' I have no insecurity in playing a mother on-screen'; READ MORE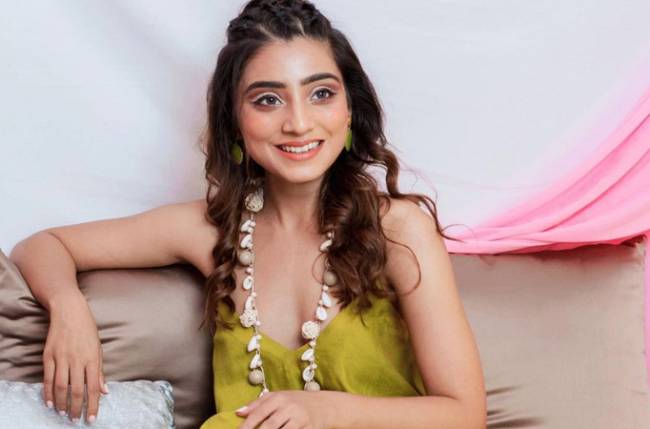 TV actress Neha Marda recently returned to the small screen with a new show, Kyun Rishton Mein Katti Batti. Set in Pune, Kyun Rishton Mein Katti Batti depicts the innocent worlds of 2 young and adorable kids Rishu and Roli as they team up to rekindle the love between their mumma-papa and complete their 'happy family'. The actress shared she wanted to be on a break for another year, but the concept of the show and director Arvand Babbal's name prompted her to take up the show. Neha also said she had no apprehensions about playing the role of a mother to two kids. Neha stated that after spending 17 years in the industry she has no insecurity is playing her age or a mother on-screen.
The actress was all praise for Rupali Ganguly for her performance in Anupamaa and she is happy that actresses today are offered such roles where there are no age limitations. Neha also spoke about her personal life and shared that the lockdown got her more closer to her husband Ayushmaan Agrawal. From embracing motherhood to her fitness, the actress spilled the beans about several other things about her life.
What made you accept the show Kyun Rishton Mein Katti Batti?
The makers of the show and the producers and directors, their names are the reasons behind saying yes to the show. It was my dream to work with our director Arvind Babbal. I wanted to be his heroine and wanted him to direct me. As soon as I got a call from the production house, I told myself I wanted to do the show no matter what the content is. Not that I knew that I would be selected for the show, but I was ready to do it. In fact, I was not ready to come back to TV for more than a year. I wanted my break to continue for a year and then come back because I had few pending works to finish. But as soon as I got a call for this show, I said yes. Then of course the content of the show was something that is out of the box and we haven't shown it on Indian television. We have shown a parents perspective of bringing up a child, but this time it will show the kids perspective how it affects them when they go through certain things in their life. I think it is a lovely concept.
Was there any apprehension on accepting the role of a mother?
No, there were no apprehensions. For an actor and the kind of environment I've grown up in, this thought has never come in my mind. I've been working in this industry for the last 17 years. I started working very early when I was 15 year old. I think after being in this industry for so long there is no insecurity that I have to only play my age or I hide my age. I proudly say that I am 32 and there's nothing wrong to be 32. People like to hide there but I don't. I feel as an actor it is lovely if I can play 21-22 or it will be amazing even if I get to play 55-60. I think as an actor it is my job to play different roles which I am not in my personal life. There were no inhibitions or apprehensions. One thing was definitely in mind was to bag a lead show. Stardom is not something that I look forward to, an actor is something that I strive for. I have no insecurity of not getting work. I know I've done so many shows and worked so hard that even though I might not get offered shows that I want to do, there can't be dearth of work. There is no insecurity about work. The only insecurity I have is will I be able to fit into the characters that I am offered and that's why I keep working on my fitness. I do Yoga regularly.
Are you happy with the different projects that are being made on TV like Mere Dad Ki Dulhan, Anupamaa and your show Kyun Rishton Mein Katti Batti ?
Rupali Ganguly is doing a fabulous job. She is nailing it as Anupamaa. I am very happy that people are experimenting and there are no limitations or boundaries to any age or character. Every person has a perspective and show's can be about anyone's perspective. I think nobody could have done the role the way Rupali is doing, she's up there. She is amazing.
Were you always inclined towards fitness or lockdown brought you closer to the staying fit?
Fitness has always been part of my life. Sometimes it is more, sometimes less. The entire lockdown got me closer to my husband. We have started a new normal in our personal life. The new normal for us is not COVID related, the new normal is the new love that has blossomed again in our lives. We will be completing 10 years of our marriage. It is often said that after a few years of marriage like 5-10, you get used to staying with someone, but for us it feels like we have started off, we are just dating each other or chasing to meet each other. So, this is the best thing that has happened to me during the lockdown.
Talk about your fitness regime?
My idea of being fit is not about losing weight, it is about losing extra fat and gaining muscles. Every time we talk about fitness we just keep checking our weight, but that is not going to help. We have to focus on how strong our bones are, how much muscle you have gained and how strong you are, that's what matters. I am into yoga and Power yoga. I do yoga and power yoga in the morning and I do a lot of walking and it is best when Ayushmaan is around. I miss the time when I work here. Walking, jogging, Yoga, Pranayama, enjoying the fresh air just sums up my workout routine. Also, I absolutely go for gluten free products. I do not take gluten at all. I don't have sugar, instead I eat jaggery.
How do you balance your professional and personal life since you are in a long-distance relationship?
I always used to wait to meet him. I would always chase him. I am gaga for my husband and I always chase to meet him. Mujhe humesha aisa lagta hai, ki main unko kaise miloon… I remember when I got married, I got a show called Doli Armaanon Ki and because of it I was in Mumbai and I would travel to Patna for 6-7 days every month to be with him. Ayushmaan also would try to meet me and come here, so the chase to meet each other was always alive. The crux of our relationship is the long distance which is working. I think because the chase is alive, the freshness is alive, we always look forward to meeting. I always request my makers to let them go and meet my husband. But being a daily soap heroine it is difficult. We are working it out.
Is motherhood on the card?
I was so paranoid about it. Whenever I felt or had a hint that I might be pregnant because I used to feel that I have signed up for a show and if I get pregnant what will happen. I wanted to be a mother, but at the same time I had given my commitment to a project for a year. Thankfully, the news has not come yet, but I am planning for it. My cards are never shut, it is an open card and whenever God wants to write a story will start writing and everyone will get to know it.