Jetshen Dohna Lama crowned as the winner of Sa Re Ga Ma Pa Li'l Champs season 9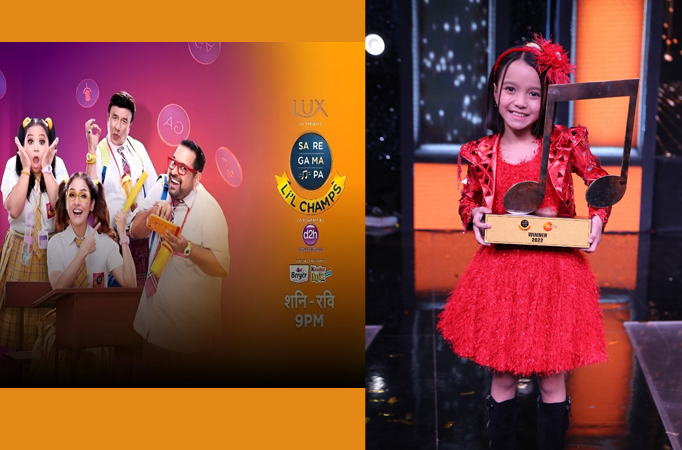 MUMBAI : 22nd January 2023: Having delighted the audience with some spectacular performances by its talented contestants week on week, Zee TV's popular singing reality show Sa Re Ga Ma Pa Li'l Champs season 9 finally came to a close this weekend with a bang! Throughout the season, viewers got to watch a fresh panel of judges including Shankar Mahadevan, Anu Malik, and Neeti Mohan guide these young singing sensations, while Bharti Singh entertained one and all as the show's host. And now, after a successful run of three months, Jetshen Dohna Lama was crowned as the winner of Sa Re Ga Ma Pa Li'l Champs amidst much fanfare and celebrations. A consistent performer throughout the season who was much loved by the judges and viewers of the show, Jetshen was presented with the coveted trophy during the Grand Finale. On the other hand, finalists Harsh Sikandar and Dnyaneshwari Ghadge were announced as the first and second runners-up respectively.
The grand finale of Sa Re Ga Ma Pa Li'l Champs was nothing short of an entertainment extravaganza packed with some breath-taking performances and soulful acts. The final episode commenced with a power-packed performance by the top six finalists of the show – Harsh Sikandar, Rafa Yeasmin, Atharv Bakshi, Atanu Mishra, Jetshen Dohna Lama and Dnyaneshwari Gadhge, which left everyone mesmerised. Not just the contestants, but the judges – Neeti Mohan and Shankar Mahadevan – also delivered outstanding performances on medleys of their songs which floored one and all. Bollywood superstar Jackie Shroff along with filmmaker Anurag Kashyap and music director Amit Trivedi were also seen gracing the blockbuster finale and their anecdotes and spicy revelations cannot be missed!
During the episode, Jackie Shroff also played Manjira while contestant Harsh performed to a devotional song on the stage. Not just that, impressed by Jetshen's performance, Amit Trivedi also requested her to sing 'Pareshaan' with him on the stage. However, it was Jetshen's win that truly capped off the eventful evening!
Elated at the victory, Jetshen mentioned, "This is a dream come true for me! Honestly, the competition was tough as all the contestants of the season are very talented and I really feel grateful that I got to share the stage with them. My journey on Sa Re Ga Ma Pa Li'l Champs season 9 has been a great learning experience for me and I am immensely grateful to all my mentors who have constantly supported me and helped me understand my potential as a singer. I am definitely taking a bundle of memories along with me and am looking forward to my new singing journey."
Shankar Mahadevan further added, "Jetshen has been consistently performing at the highest level throughout the season and has been working towards perfecting her singing skills week after week. I have really seen her grow as a singer this season. Anu ji, Neeti and I have always encouraged the kids to do better and better as all these contestants are extremely talented. At a very young age, they've started their career and I am sure all of them will reach great heights in the future."
Neeti Mohan said, "I would like to congratulate Jetshen for winning the title and I must say she truly deserved it. I have loved and enjoyed her performances throughout the season, and I believe she is a really versatile singer with the potential to make her career in the industry. I really hope to see her excel and grow after this show. In fact, all the contestants of the show were extremely talented, and I am sure they will work hard towards their dream of becoming fantastic singers one day."
Judge Anu Malik expressed, "I must say that this season has been fabulous, and every contestant has left us floored by their incredible talent. We have seen them perform the most challenging songs and go through a remarkable learning curve. While all the Li'l champs have outdone themselves, Jetshen, in particular, has won our hearts with her indomitable spirit and brilliant singing skills. It has always been a delight to hear her sing. We have seen her grow since the inception of this season, and I am sure she has a bright future ahead of her. My best wishes and blessings are with her and all the contestants of this season of Sa Re Ga Ma Pa Li'l Champs."
While the audience enjoyed each and every moment during the finale, the epic performances by the talented Li'l Champs will surely be an unforgettable experience for one and all.