Shiny Doshi reveals how she prepares herself for intense scenes in Pandya Store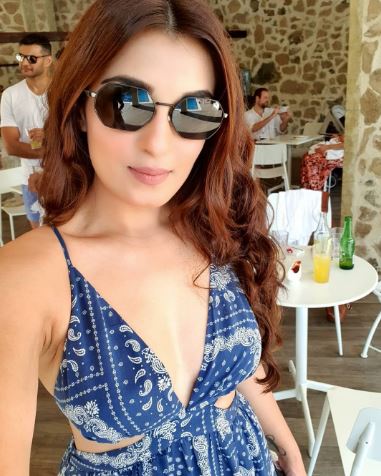 Shiny Doshi is currently seen as Dhara in Star Plus' popular show Pandya Store.
Pandya Store has become an instant hit among the fans.
The show also stars Kinshuk Mahajan, Alice Kaushik, Akshay Kharodia, Simran Budharup, Pallavi Rao, Krutika Desai, Krunal Pandit, among others in pivotal roles.
Shiny Doshi is playing the lead role of Dhara on the show. She is being loved for her mature performance.
Also, Shiny's onscreen jodi with Kinshuk Mahajan has become a huge hit among the fans.
The diehard viewers of Pandya Store refer to them as Gaura.
We all have seen how Shiny Doshi has performed so many intense scenes on the show. Be it emotionally draining scenes or losing her cool on some of the members of the Pandya family, Shiny is always lauded for her stellar performance.
In one of her recent Instagram live chat sessions, Shiny Doshi was asked by one of her fans how she preps herself for such intense scenes.
Shiny Doshi revealed that she listens to those kinds of songs that suit that particular situation.
Take a look: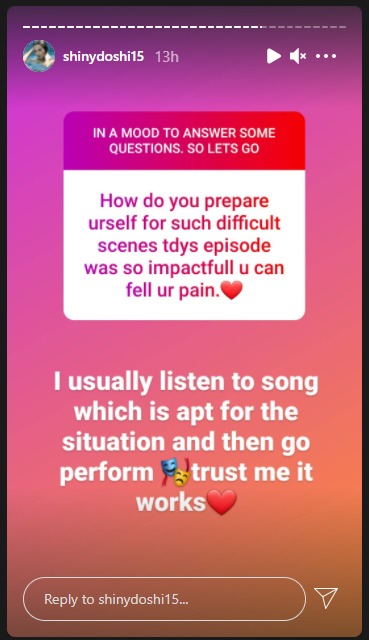 The actress reveals that it becomes extremely helpful for her.
What do you think of Shiny Doshi's performance as Dhara on Pandya Store? Tell us in the comments.
Pandya Store is a remake of Star Vijay's Tamil series Pandian Stores. It is produced by Sphere Origins and it stars Shiny Doshi and Kinshuk Mahajan in the lead roles.
Stay tuned for all the latest updates.