Shark Tank India's Aman Gupta shares a picture with Ashneer Grover at a recent party, netizens say "dono ke beech itni duri…"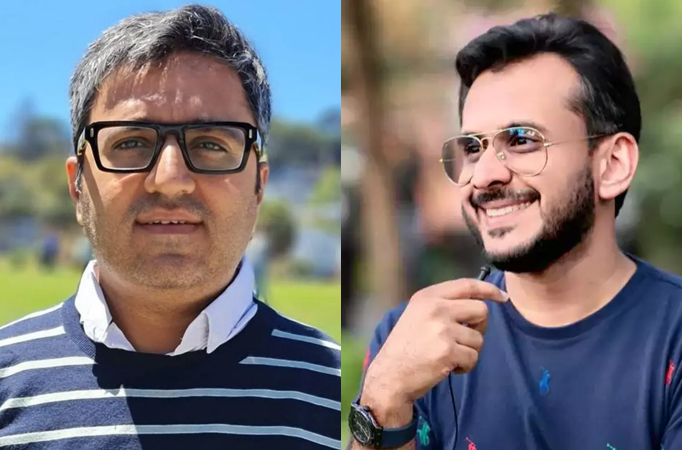 MUMBAI :Shark Tank India has been a successful reality show with a unique concept. It depicts business owners giving pitches to a group of sharks or investors, who determine whether to fund their enterprise.
Ashneer Grover who was a shark/judge on season 1 is no longer a part of season2. He became popular for his charismatic presence. His one liners and witty humor made the show all the more livelier. Grover however has distanced himself from the Shark Tank India season 2.
Now, current shark Aman Gupta met ex-shark Ashneer Grover at Oyo founder Ritesh Agarwal and Geetansha Sood's wedding reception, and it was like a mini reunion for them.
Sharing some pictures from the event on his social media page, Aman captioned it, "Wishing you a happy married life @riteshagar. Asking on behalf of millions of Indians: I hope the honeymoon is also at one of the Oyo Rooms."
Netizens meanwhile couldn't resist commenting on the pictures. One wrote, "Uff Ashneer-aman in one frame!! How much we missed you both" Another one wrote, "Shaadi ritesh ki par dhiyaan Asheer par kyu jata hai" One wrote, "So happy to see ashneer and you together" Another user commented, "Bhai ashnner bhai ne apko ignore Kara hoga" Another one wrote, "Tum dono ke beech itni duri kyon…?" One wrote, "Sab doglapan hai."
Ashneer earlier made it clear that he won't come back on Shark Tank India saying, "I am giving it to you in writing, I won't return for the third, fourth, or even fifth season. And I'll tell you why; I don't believe in going backwards in life, I believe in moving ahead. I enjoyed Shark Tank while it lasted, I became famous, it was fun, but now it's time to move on."