Srishti Jain: It's not easy to face rejection for how you look!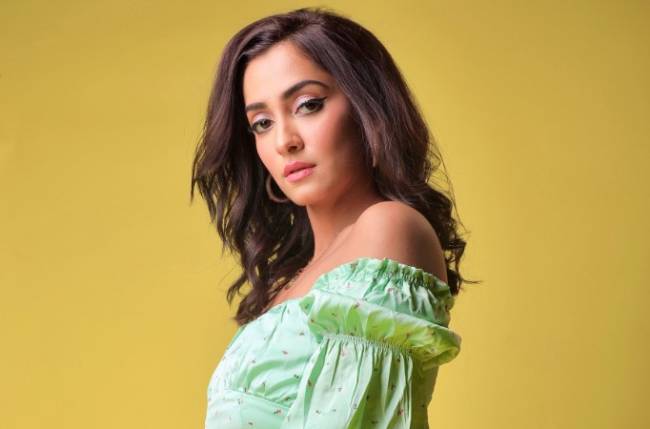 Actor Srishti Jain is very excited to be on board with the brand new show Hamari Wali Good News. However, she has not forgotten the struggle that she endured in order to reach here.
How do you look back on your acting journey?
I bagged my first show when I was around 19 years old. I have been part of the industry since the last 5 years now and when I look back, I realise that I have grown a lot and learnt a lot from this journey. It has made me a stronger person. I am very thankful and grateful that in these five years I was able to associate myself with some really good shows and showcase my talent as an actor. Before I got my first break, I spent my two auditioning, along with my college lectures. I remember running back in forth between Andheri East and West by the metro to give an audition attend my classes. It's not easy to face rejection especially when you know that you have been rejected for the face that you have or what you look like. It needs a lot of strength to pick yourself back up after the rejection and still keep going. So yes, it has definitely made me a stronger person but more than anything else, I am glad that my hard work has paid off. I didn't give up and I am very happy for that.
Which role has given you the greatest joy?
It is extremely hard to pick one because each of the shows or each of the characters that I played is special to me. My role of Navya right now is very interesting. I am really looking forward as things are going to be very challenging which is why it makes a lot more fun. But if I have to pick one, I think I will pick Jaya from Mai Mayeke Chali Jaongi because I got to build Jaya from day one. So Jaya was my baby and Jaya was also very similar to what Srishti is. With Jaya, I was able to put in a piece of me in her since day one. So that's what makes Jaya a little bit more special as compared to other the characters that I have played.
Tell us about your new show Hamari Wali Good News?
Hamari Wali Good News is a very experimental, bold, progressive character. I is a slice-of-life kind of a show. I think it is something that touches a lot of small, big sensitive issues and it shows a very unique relationship between the daughter-in-law and mother-in-law which I think the audience will really enjoy. It has a lot of twists and turns. The reason I call it experimental is that it's a very different script, it's a wonderful storyline and I do hope our audience is ready for something like this. It is going to touch a lot of new chords in the people's hearts and I think that is what it makes it so special.
How does this compare to other roles you have done? What can we expect from the show?
Like I said, I feel the show is experimental and it's unique. It is so different from the shows that I have done before. The character is my age but at the same time, she is dealing with lot of nuisance in her life. I think that is what it makes different. She is handling a lot of mature responsibilities because she got married really early but she is young at heart. I think maintaining that balance between maturity as well as keeping the inner child alive is something that is challenging for this role. Apart from that, I think the promo is enough to give the audience a gist of what the show is going to be about.
What is it like shooting during the time of Covid-19?
Honestly, shooting during this time is scary. It makes me very anxious but like they say the show must go on, so with all the precautions and safety measures we are shooting. I am also very grateful to be shooting during this pandemic because I know that these times are very difficult and being able to have work at this time is a big deal. So it's a mixed feeling.
What according to you is the secret of a great performance?
I think the secret to a good performance is to be dedicated, work hard and have passion for your craft. For me, I believe whenever I perform or whenever I take up a new show or a new role, I try to it give my best. I put in as much work as required for the particular role. Over the years, I think I have realised that this was my calling. I was meant to be in front of the camera and that is what drives a good performance from my end.
What do you like watching as an audience and have you binge-watched anything recently?
I think the lockdown has had everybody hooked onto the Netflix, Amazon, Hotstar and other OTT platforms. Currently, I am watching How To Get Away With murder and I am really enjoying it. I enjoy good thrillers so that's what I am binge-watching right now. I loved Lucifer as well. I have also seen Dark, it's a very beautifully executed series.
Who is your own acting hero and why?
It is very difficult to pick one, I have a couple of idols in the industry. Irrfan (Khan, actor) sir was truly amazing. I admired him a lot. Vidya Balan (actor) ma'am is an incredible performer and a powerful woman. I have always admired Sushant Singh Rajput (actor) and I am not just saying this because his death is in the news. I have always been his admirer, not only for the way he performs but for the person that he was. I like Sandra Bullock, Robert Downey Jr. in Hollywood. Once I was shooting for my show Meri Durga in Filmcity and one really cool car came and stopped at our sets. I was tied to this trolley, for a scene, so I couldn't move and saw this man from the back. He stepped out of the car and touched our director's feet and hugged him. When he turned around, I saw it was Sushant sir. I think this is what defines a man.
Why should we all watch Hamari Wali Good News?
Hamari Wali Good news is such a fresh, progressive, experimental show. It is something I feel like the audience needs to see as it has a lot to teach, it has a lot to tell the audience. I think it will be able to redefine a lot of relationships and things for the people of our country and it will all be with a dose of laughter. I think people will be laughing and learning something new and connecting to each character of the show. We are working very hard to make sure that we deliver and execute the script really well and do justice to it. I am really hoping that the audience will accept, love and watch the show.