Neha Marda visits the 'Ganga Ghats' in Varanasi with her family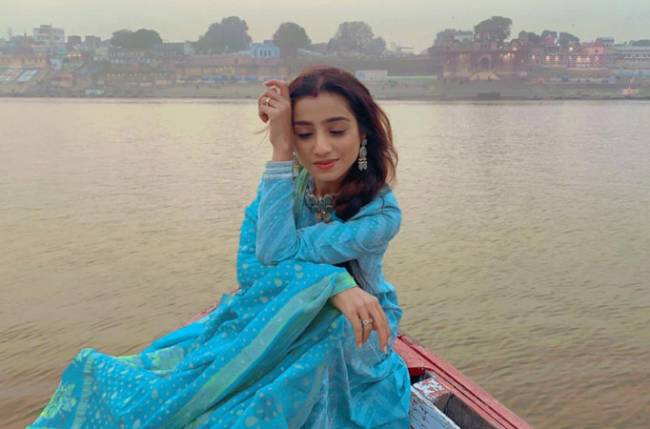 Zee TV recently launched a heart-warming narrative Kyun Rishton Mein Katti Batti, the show depicts the innocent world of two adorable kids (Rishi and Roli) who team up and are on a mission to rekindle the love between their parents and bring papa back to mamma in the hope of completing their 'happy family'. Together, they have vowed to be the glue, that will fill the cracks developed between their parents, Shubra and Kuldeep.
While television actor Siddhaant Vir Surryavanshi is seen essaying the lead role of Kuldeep, popular actress Neha Marda is seen playing Shubhra's character. Neha Marda who recently took a break from her hectic schedule to spend some quality time with her family travelled to the holy city of Varanasi.
Talking about her experience she said, "I planned a trip with my family to Varanasi and it was a much-needed break for all of us. We visited the 'Ghats' in Varanasi which also happens to be my in-laws native place and all of us were extremely excited to go there together. We even hired multiple boats for the entire family and went across the river to experience the 'Chunni' tradition for the very first time. Even though it was cold, I was happy to be there after all these years as I don't get to go there very often. Varanasi, for me holds a very special place in my heart and visiting it with my family made it even more special and peaceful for me."
In the upcoming episodes of the show viewers are in for so much more drama with Shubra trying to get Kuldeep back in her life, will she be able to complete Rishi's 'Happy Family' school project?
To know more, tune into Kyun Rishton Mein Katti Batti, every Monday to Saturday at 10 PM only on Zee TV!