Mohit Malhotra turned 'Chai-Wala' on the sets of Bhagya Lakshmi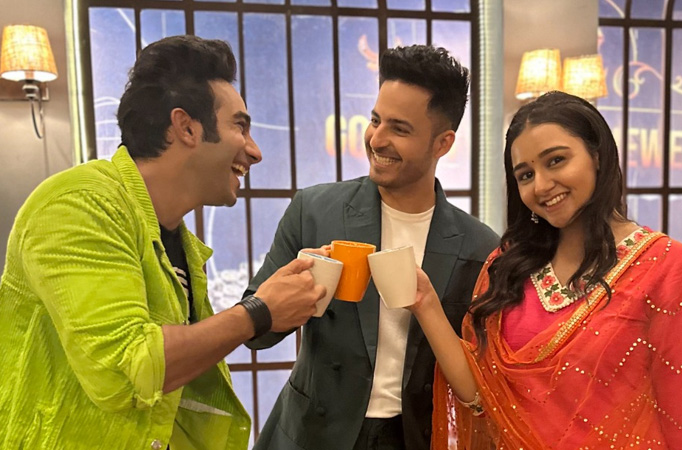 MUMBAI :Zee TV's Bhagya Lakshmi has been in the news for all the right reasons ever since its premiere. Making their way into the audience's hearts, Aishwarya Khare and Rohit Suchanti a.k.a. our very own #RashMi have become household names. In the recent episodes, viewers witnessed how the Oberoi family has started preparing for Lakshmi (Aishwarya Khare) and Vikrant's (Mohit Malhotra) wedding. And on the other hand, Rishi is half-heartedly participating in all the pre-wedding arrangements for the same.
While the actors have been shooting in the scorching heat for their shows, nothing seems to stop them from having the perfect 'Garma garam Chai', regardless of the temperature. Clearly, tea helps them survive the day better. And from the looks of it, popular actor Mohit Malhotra likes his tea made in a certain way with the right amount of each ingredient. Recently, Mohit took over the set's kitchen and treated his reel life family with his magical chai, adding some Adrak, Elaichi, and Lemon grass, Mohit impressed everyone on the set with this secret talent.
Mohit mentioned, "I've always believed that a great cup of tea can do wonders, not just for the body but also for the soul. As an actor, the fast-paced environment on set can both be exhilarating and exhausting. That's why I decided to treat my co-stars with a refreshing perfect cup of tea. A little bit of Adrak, Elaichi, and Lemon grass helps you relax your mind, and keeps you fresh and active; that's the little secret of my special 'Chai'. Everyone on the set loved it and we had a great time at the little tea party during our break time."
Well, Mohit definitely had fun serving his special Chai to all the co-stars on the sets of Bhagya Lakshmi.
To know the upcoming drama in the show, tune into Bhagya Lakshmi, every day, at 8:30 pm, only on Zee TV!