EXCLUSIVE: Gracy Goswami sheds light on how Kyun Utthe Dil Chhod Aaye shaped her as an actress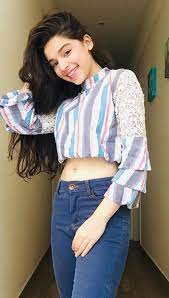 Sony Tv's Kyun Utthe Dil Chhod Aaye has become one of the most celebrated shows on television. The show has not only touched hearts, reminded a lot of people about their past. The cast leaves no stone unturned to portray the dreadful partition like a living memoir. Amdheer's love is a soothing breeze in the heat of history.
The much-adored Amrit aka Gracy Goswami shared some amusing insights about her journey, her preparations, and everything that adds up to Amrit in an exclusive conversation.
Gracy opens up about being a child actor for the longest time, "I have always been recognized as a child actor in leads as well, this is the first time I am acting like an adult, a heroine. I get to express more emotions on the screen and bring in different shades. As an actor, I keep evolving and I am in love with the changes."
She further reveals how the two phases of Kyun Utthe Dil Chhod Aaye have grown her as an artist, "Initially, Amrit was an innocent girl. She was a happy-go-lucky person and a little scared of her father. All her problems were only about her dream to be a writer and acceptance for her lover in the family. She came from a respected and wealthy background; there were no grave worries as she was safe."
"When Partition happened, the storm took her innocence away. She went through so much in these few years from Farooqi, Mogar to Veer. These villains turned her into a stronger and mature person; Amrit learned to stop venting out for everything and seek solutions for her problems. The growth is amusing from a 17-year-old Amrit to a 23-year-old woman; I proudly say that I have played Amrit and the character has evolved me drastically," adds Gracy.
Stay Tuned, as this is just the beginning to know your favorite star from a little closer view.